Take your time and defend innocent people getting imprisoned, tortured, raped and even executed by hanging. Addresses below...
URGENT ACTION
Take your time and write to the most influential people in the world. Ask them to stand firmly on behalf of human rights in countries in which innocent men and women are getting imprisoned, tortured, raped and even executed by hanging. Ask the leaders to deal rather with people in those countries and not with their dictators. Ask them to support the Solidarity Movement in all those countries. Ask them to stand firmly especially on behalf of women there. Constitutional Women Rights in the Middle East, Iran, Pakistan, Bangladesh and Afghanistan should be on agenda in all countries without exception. The same finally what concerns children in all those countries. Both girls and boys should have equal rights to education there. Executions by hanging or otherwise being done on innocent people and prisoners of conscience MUST be stopped at once. We all need to be messengers for constitutional human rights of men, women and children in all countries of the world. Act whenever you see injustice is being done. For all those silenced people you are their voice...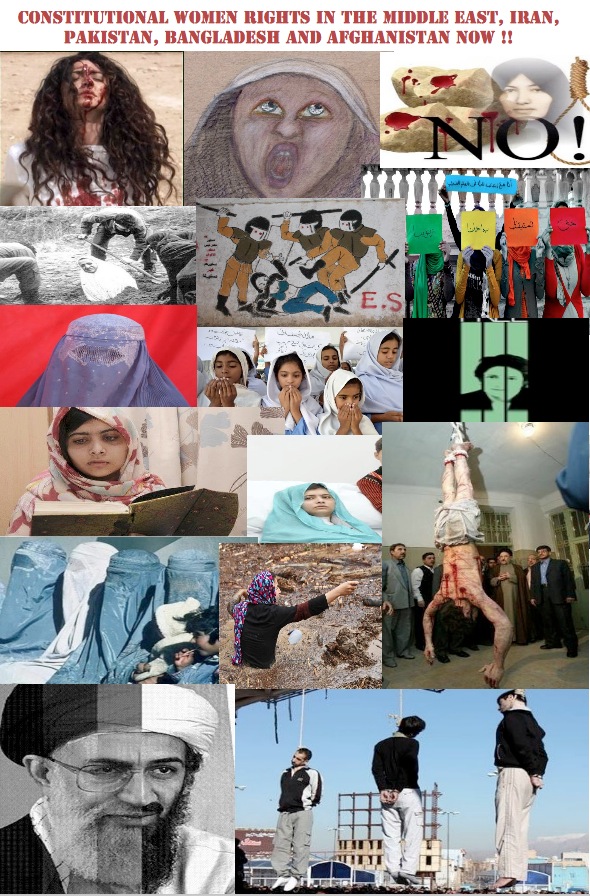 Addresses:
Postal address (OHCHR):
Salutation: Your Excellency
Office of the United Nations High Commissioner for Human Rights (OHCHR)
Palais des Nations
CH-1211 Geneva 10, Switzerland
General inquiries:
Telephone: +41 22 917 9220
Email: InfoDesk@ohchr.org
President of the United States Barack Obama
Salutation: Dear Mr. President Barack H. Obama
1600 Pennsylvania Ave.
Washington, DC 20500
Fax: 202-456-2461
Email: president@whitehouse.gov
Secretary General Ban Ki-moon
Salutation: Dear Secretary-General
United Nations
New York, NY 10017 USA
Fax: 212-963-7055
Email: ecu@un.org
Dr. Ahmed Shaheed
UN Special Rapporteur for Human Rights in Iran
Salutation: Dear Honorable Dr. Ahmed Shaheed
Office of the UN High Commissioner
for Human Rights
Palais des Nations
CH-1211 Geneva 10
Switzerland
Mr. Stavros Lambrinidis
EU Special Representative for Human Rights
Salutation: Dear Mr. Stavros Lambrinidis
Assistant to Mr. Stavros Lambrinidis
EEAS- Cortenbergh 7/070
Rue de la Loi 242 - 1046 Brussels
BELGIUM
Twitter account: @SJLambrinidis
http://eur-lex.europa.eu/LexUriServ/LexUriServ.do?uri=OJ:L:2012:200:0021:0023:EN:PDF
E-mail Members of Delegation for relations with Iran:
Salutation: Dear Members of Delegation for relations with Iran
tarja.cronberg@europarl.europa.eu, potito.salatto@europarl.europa.eu, cornelia.ernst@europarl.europa.eu, alexander.alvaro@europarl.europa.eu, sergio.cofferati@europarl.europa.eu, isabelle.durant@europarl.europa.eu, peter.jahr@europarl.europa.eu, dan.jorgensen@europarl.europa.eu, marit.paulsen@europarl.europa.eu, oreste.rossi@europarl.europa.eu, marco.scurria@europarl.europa.eu, boguslaw.sonik@europarl.europa.eu, ewald.stadler@europarl.europa.eu, kathleen.vanbrempt@europarl.europa.eu, geoffrey.vanorden@europarl.europa.eu, josef.weidenholzer@europarl.europa.eu, pawel.zalewski@europarl.europa.eu, georgesabin.cutas@europarl.europa.eu, dimitrios.droutsas@europarl.europa.eu, martin.ehrenhauser@europarl.europa.eu, christofer.fjellner@europarl.europa.eu, philippe.juvin@europarl.europa.eu, lena.kolarska-bobinska@europarl.europa.eu, barbara.lochbihler@europarl.europa.eu, antonyia.parvanova@europarl.europa.eu, pavel.poc@europarl.europa.eu, marietje.schaake@europarl.europa.eu, alda.sousa@europarl.europa.eu, salvatore.tatarella@europarl.europa.eu, emilie.turunen@europarl.europa.eu, niki.tzavela@europarl.europa.eu, marita.ulvskog@europarl.europa.eu, sabine.verheyen@europarl.europa.eu
Email Embassies and consulates in Iran:
Salutation: Dear Ambassador
info@afghanembassy.ir, emarteh@yahoo.com, dima-tehran@dfat.gov.au, tehran@diplobel.fed.be, tehran.iran@mfa.gov.bn, teheran@embassy.mzv.cz, chinaemb_ir@mfa.gov.cn, croatia@irost.com, embacuba.teheran@accir.com, thramb@um.dk, emiratemb@mail.dci.co.ir, tehranpe@dfa.gov.ph, finlandiran@hotmail.com, embgreece1@safineh.net, indemteh@dpi.net.ir, kbritehran@parsonline.net, tehranembassy@dfa.ie, itaembtehe@kanoon.net, kazembir@apadana.com, mwtehran@parsonline.net, emb.tehran@mfa.no, newzealand@mavara.com, teh@minbuza.nl, ambrotehran@parsonline.net, ambassaden.teheran@foreign.ministry.se, info@thaiembassy-tehran.org,
Send letter to the following addresses:
Salutation: Dear Mr/Dear Madam
npillay@ohchr.org, Iran_team@amnesty.org, michael.spindelegger@bmeia.gv.at, kab.bz@diplobel.fed.be, info@mvp.gov.ba, iprd@mfa.government.bg, ministar@mvpei.hr, minforeign1@mfa.gov.cy, podatelna@mzv.cz, udenrigsministeren@um.dk, vminfo@vm.ee, bernard.kouchner@diplomatie.gouv.fr, inform@mfa.gov.ge, guido.westerwelle@auswaertiges-amt.de, gpapandreou@parliament.gr, titkarsag.konz@kum.hu, external@utn.stjr.is, minister@dfa.ie, gabinetto@cert.esteri.it, segreteria.frattini@esteri.it, mfa.cha@mfa.gov.lv, urm@urm.lt, tonio.borg@gov.mt, secdep@mfa.md, m.verhagen@minbuza.nl, post@mfa.no, DNZPC.Sekretariat@msz.gov.pl, registrator@foreign.ministry.se,i.bokova@unesco.org, tehran@unesco.org , info@eda.admin.ch; online@orf.at, report@orf.at, thema@orf.at,ZiB1@orf.at; alex@eurotv.com, info@demorgen.be, internet@lesoir.be, news@brf.be, nieuwslijn@tijd.be, persberichten@tijd.be, redaction.generale@sudpresse.be; udenrigsministeren@um.dk, bagsiden@pol.dk, chefredaktionen@pol.dk, debat@pol.dk, Dokumentar@dr.dk, erhverv@pol.dk, fejl.fakta@pol.dk,i@information.dk, ibyen@pol.dk, jp@jp.dk, kristeligt-dagblad@kristeligt-dagblad.dk, lordagsliv@pol.dk, mediarium@jp.dk, plus@pol.dk, politiken.dk@pol.dk, radioavisen@dr.dk, redaktionen@berlingske.dk, redaktionen@eb.dk, ritzau@ritzau.dk, udland@jp.dk; michael.spindelegger@bmeia.gv.at; main@mail.gov.by; kab.bz@diplobel.fed.be; info@mvp.gov.ba; iprd@mfa.government.bg; ministar@mvpei.hr; minforeign1@mfa.gov.cy; podatelna@mzv.cz; udenrigsministeren@um.dk; vminfo@vm.ee; bernard.kouchner@diplomatie.gouv.fr; inform@mfa.gov.ge; guido.westerwelle@auswaertiges-amt.de; gpapandreou@parliament.gr; titkarsag.konz@kum.hu; external@utn.stjr.is; minister@dfa.ie; gabinetto@cert.esteri.it; segreteria.frattini@esteri.it; mfa.cha@mfa.gov.lv; urm@urm.lt; mailmnr@mfa.gov.mk; tonio.borg@gov.mt; secdep@mfa.md; m.verhagen@minbuza.nl; post@mfa.no; DNZPC.Sekretariat@msz.gov.pl; miguel.moratinos@maec.es; registrator@foreign.ministry.se; info@eda.admin.ch; ellemagazine@hfp.fr, english@Monde-diplomatique.fr, ldh@ldh-france.org, lecteurs@vsd.fr,monde@lexpress.fr, monique.desson@ouest-france.fr, phtd@courrierinternational.com, quotidien@nouvelobs.com, rlesommier@hfp.fr; heidi.hautala@europarl.europa.eu; guy.verhofstadt@europarl.europa.eu;daniel.cohn-bendit-office@europarl.europa.eu; guido.westerwelle@auswaertiges-amt.de ; redaktion@faz.de , amlung.r@zdf.de, b.breuer@multimedia.zgs.de, bilke.n@zdf.de, chefred@taz.de, info@zdf.de, leserdienst@stern.de, mail@vox.de, mueller.kar@zdf.de, politik@fr-online.de, redaktion@publik-forum.de, redaktion@sueddeutsche.de, redaktion@tagesschau.de, redaktion@teckbote.de, rifert.c@zdf.de, spiegel_online@spiegel.de, suedwest-presse.redaktion-chefredaktion@swp.de, verlag@wochenblatt.net; ahlers.m@zdf.de; katja.auer@sueddeutsche.de; andreas.bachmann@brnet.de; uli.bachmeier@augsburger-allgemeine.de; hgb.becker@gmx.de; berls.u@zdf.de; landespolitik@abendzeitung.de; christian.deutschlaender@merkur-online.de; Englisch99@t-online.de; rudolferhard@hotmail.com; christian.faul@brnet.de; roswin@t-online.de; juergen.fischer@donaukurier.de; armin.friz@brnet.de; maxbuero@aol.com; friedrich.hettler@bayerische-staatszeitung.de; hilbig@focus-r.de; max.haegler@sueddeutsche.de; Ralf.Isermann@afp.com; Peter.Issig@wams.de; petr.jerabek@ddp.de; alexander.kain@pnp.de; barbara.kammerer@brnet.de; abendschau@brnet.de; birgit.kruse@sueddeutsche.de; christian.kraemer@reuters.com; jens.kuhn@brnet.de; peter.kveton@brnet.de; alexandra.koeniger@dlv.de; s.lahrtz@nzz.ch; Lampe@blr.de; Ernest.Lang@brnet.de; redaktionlehner@gmx.de; rlosch@ap.org; Stefan.Maier@brnet.de; cmauermayer@aol.com; mayr-buelow@camp-tv.de; ulrich.meyer@ddp.de; rainer.munz@rtl.de; kpm.mueller@online.de; nerowski@t-online.de; nikolaus.neumaier@brnet.de; conny_neumann@spiegel.de; redaktion@tapes-and-tales.de; hans.oberberger@antenne-bayern.de; rolf.poss@t-online.de; antje.poehner@ddp.de; annette.ramelsberger@sueddeutsche.de; redmuenchen@kna.de; xrettnerx@aol.com; karsten.riechers@bild.de; Deutschland.Radio@brnet.de; a.schaeffer@faz.de; julio.segador@brnet.de; Steinmayr@blr.de; steinmayr@radiodienst.de; henry.stern@mainpost.de; kassian.stroh@sueddeutsche.de; waltraud.taschner-kupka@bayerische-staatszeitung.de; r.tresselt@t-online.de; Trost.Christoph@dpa.com; jumkor@t-online.de; m.weber@stz.zgs.de; heidi.wolf@bayern.landtag.de; ezimmermann@epv.de; m.verhagen@minbuza.nl, annelies.de.korver@human.nl, human@omroep.nl, internet@ad.nl, Actie@ad.nl, Internet@ad.nl, Digitaal@ad.nl, Online@ad.nl, Uwnieuws@ad.nl, internetredactie@parool.nl, nieuwsdienst@telegraaf.nl, nrc@nrc.nl, publieksreacties@rtv.nos.nl, redactie@nd.nl, redactie@trouw.nl, economie@trouw.nl, groen@trouw.nl, internet@trouw.nl, kunst@trouw.nl, parlement@trouw.nl, verdieping@trouw.nl, wetenschap@trouw.nl, redactie@volkskrant.nl, buitenland@trouw.nl, staatscourant@sdu.nl, tros@omroep.nl, webmaster@avro.nl, webredactie@eo.nl; info@waterford-today.ie, kandrews@galwayadvertiser.ie, lettersed@irish-times.ie, moconnor@galwayadvertiser.ie, usinnott@galwayadvertiser.ie, dmalone@kerryman.ie, editor@clarechampion.ie, editor@donegalnews.com, editor@fermanaghherald.com, editor@leitrimobserver.ie, editor@mayonews.ie, editor@waterford-news.ie,editorial@nenagh-guardian.ie, editorial@southernstar.ie, eruddy@unison.ie, info@connacht-tribune.ie, info@emigrant.ie; direzionefc@stpauls.it,espresso@espressoedit.it, famigliacristiana@stpauls.it, giancarlo@magalli.com, giuseppe.marra@adnkronos.com, grr@rai.it, ildirettore@ilfoglio.it, info@coalit.org, info@nessunotocchicaino.it, lettere@avvenire.it, lettere@ilfoglio.it, lettere@lastampa.it, letteredirettore@aol.com, milan.newsroom@reuters.com, mondo3@rai.it, newsletter@santegidio.org, ornet@ossrom.va, press@immedia.it, programmi@la7.it, redazione@asca.it, redazione@avanti.it, redazione@ilmanifesto.mir.it, segretcor@corriere.it, segreteria@asca.it, telepress@diesis.it, televideo@rai.it, tg1_esteri@rai.it; gp.uprs@up-rs.si; soproga.prs@up-rs.si; info.mzz@gov.si; jelena.aleksic@dz-rs.si; gp.kpv@gov.si; kerstin.weigl@aftonbladet.se; 71000@aftonbladet.se; bjorn.hedensjo@dn.se; 71000@aftonbladet.se, ettan@aftonbladet.se, anita.nasberg@ltz.se, arne.lindh@folkbladet.se, chefred@svd.se, christer.sandberg@folkbladet.se, elisabet.rydell-janson@ltz.se, gefle.dagblad@gd.se, insandare@hallandsposten.se, jonathan.falck@gp.se, marta.magnuson@gp.se, malin.perk@folkbladet.se, olaf.zobel@folkbladet.se, redaktion.gt@gotlandstidningar.se, redaktion@folkbladet.se, redaktion@gotlandsallehanda.se, redaktion@halsingekuriren.se, redaktion@kkuriren.se, redaktionen@hallandsposten.se, redaktionen@hd.se, redaktionen@tt.se,webmaster@folket.se, webmaster@svd.se; info@rsf-ch.ch, jean-cosme.delaloye@edipresse.ch, justice@letemps.ch, lematin@edipresse.ch, podatelna@mzv.cz, redaktion@tages-anzeiger.ch; dl.norway@unesco-delegations.org, s.williams@unesco.org, i.le-fournis@unesco.org, d.kebe@unesco.org, r.amelan@unesco.org, a.bardon@unesco.org, l.iglesias@unesco.org, j.sopova@unesco.org, tehran@unesco.org, delegation-paris@ec.europa.eu,AU-Geneva@africa-union-gvao.org, dl.palestine@unesco-delegations.org, ParisUNESCO@state.gov, dl.united-kingdom@unesco-delegations.org, dl.emirats-arabes-unis@unesco-delegations.org, dl.turquie@unesco-delegations.org, dl.suisse@unesco-delegations.org, dl.suede@unesco-delegations.org, dl.spain@unesco-delegations.org, dl.slovenie@unesco-delegations.org, dl.ireland@unesco-delegations.org, paul.murray@dfa.ie,orlaith.fitzmaurice@dfa.ie,dl.italy@unesco-delegations.org, israel-unesco@paris.mfa.gov, dl.italie@unesco-delegations.org, Culturalbureau@yahoo.com, dl.japan@unesco-delegations.org, dl.koweit@unesco-delegations.org, embassy.france@mfa.gov.lv, dl.liban@unesco-delegations.org, PAU@minbuza.nl, dl.islande@unesco-delegations.org, dl.grece@unesco-delegations.org, Unesco@amb-allemagne.fr, dl.finlande@unesco-delegations.org, dl.france@unesco-delegations.org, dl.denmark@unesco-delegations.org; cunesco_univoran@yahoo.fr; h_silvia_contrafatto@yahoo.com.ar; derechosculturales@palermo.edu; humanrights@brusov.am; aspr@aspr.ac.at; wolfgang.dietrich@uibk.ac.at; apaunesco@yahoo.com; anja.1111@mail.ru; gancher@pacademy.edu.by; chaire.unesco@firstnet.bj; sadorno@usp.br; oec@internet-bg.net; bujumbura@unesco.org; abrahammagendzo@manquehue.net; subcomunica@ilcg.gov.co; chaireunescounikin@yahoo.fr; juridica.uasd@webdominicano.com; enidhill@aucegypt.edu; meshete1@yahoo.com; p.morand@fc.univ-nantes.fr; kpfritzsche@web.de; dipeace@psy.auth.gr; halmaigabor@gmail.com; vdkarad@mitpune.com; mdnalapat@yahoo.com; Info.chpd@sbu.ac.ir; iram@mail.biu.ac.il; f.rizzi@unibg.it; antonino.papisca@unipd.it; ali_shra@hotmail.com; akarasai@mail.kg; traoreibrama@yahoo.fr; tepehuaje99@yahoo.fr; chaireunesco.oujda@hotmail.com; f.rhissassi@gmx.fr; khalid_berjaoui@yahoo.fr; sedjariali@yahoo.fr; Fons.Coomans@maastrichtuniversity.nl; uchrdn@mail.najah.edu; r_o_lawyer@hotmail.com; Valeri.Mikhailenko@usu.ru; bsk@rekt.kbsu.ru; una@una.ru; Miroslav.Kusy@fphil.uniba.sk; Nsrembe@ufh.ac.za; unescopau@pangea.org; patrice.meyer-bisch@unifr.ch; cvirasak@medicine.psu.ac.th; unsvat@i.com.ua; d.j.francis@bradford.ac.uk; mkirsch@fau.edu; amii.omara-otunnu@Uconn.edu; erebollo@ucu.edu.uy; abdulkhay_m@yahoo.com; mukondiwa@admin.uz.ac.zw; q.han@unesco.org; lblack@tribune.com, letters@latimes.com,letters@newsweek.com, letters@nytimes.com, letters@time.com,letters@usnews.com, letters@washpost.com, lstatom@newschannel5.com, Mark.McGonigle@latimes.com, mhewlett@wsjournal.com, mwagner@dispatch.com, newshour@pbs.org, news-tips@nytimes.com, nightly@nbc.com, nytnews@nytimes.com, smmills@tribune.com, tmalone@tribune.com, today@nbc.com; allen@allenroland.com, andrew@wbhm.org, byron@byronspeaks.com, cavuto@foxnews.com, cohencolumn@aol.com, ecassel1@cox.net, editor@commondreams.org, ehwhite@ap.org, hjb@hjbashman.com, info@vision.org, jeff.franks@reuters.com, kevin.oneal@indystar.com, letters@washpost.com, mary@maryshawonline.com, media@aclu.org, nightly@nbc.com, npr_response@npr.org, phillyrose623@verizon.net, tgest@sas.upenn.edu, tkerr@ithaca.edu, udesk@unc.edu, wayjradio@aol.com, wb33news@tribune.com, wbenjaminson@ap.org, weekendtoday@nbc.com, wnn@abcnews.com, worldnewstonight@abcnews.com, ww@workers.org, yorknewmedia@yorknewstimes.com, YourMoney@abc.com, yourturn@npr.org, ZIMMERL@wfor.cbs.com; nightline@abcnews.com, evening@cbsnews.com, earlyshow@cbs.com, 60m@cbsnews.com, 48hours@cbsnews.com, ftn@cbsnews.com, dateline@nbcuni.com, hardball@msnbc.com, joe@msnbc.com, nightly@nbc.com, today@nbc.com, newshour@pbs.org, city@thestar.ca, letters@latimes.com, letters@nytimes.com, Bruce.Wallace@latimes.com, Mark.McGonigle@latimes.com, news-tips@nytimes.com, foreign@nytimes.com, nytnews@nytimes.com, editor@usatoday.com, wsj.ltrs@wsj.com, letters@washpost.com, ombudsman@washpost.com, letters@newsweek.com, letters@time.com, letters@usnews.com, info@ap.org, tips@upi.com, redaktion@faz.de, redactie@volkskrant.nl, ole.erik.almlid@aftenposten.no, bjorn.hedensjo@dn.se, redaktion@tages-anzeiger.ch, foreign.news@thetimes.co.uk, simon.jeffery@guardian.co.uk, redazione.tg5@mediaset.it, redazione.studioapertorm@mediaset.it, skytg24.redazione@skytv.it, segreteria_roma@repubblica.it, roma@lastampa.it, esteri@liberazione.it, segreteria@unita.it, lorenzocairoli@hotmail.com, redazione@ilmanifesto.it, nadiapizzuti@gmail.com, nadia.pizzuti@ansa.it, news@sky.com; a.buncombe@independent.co.uk; a.grice@independent.co.uk; a.rawnsley@observer.co.uk; alan.rusbridger@guardian.co.uk; andrew.marr@bbc.co.uk; bill.neely@itn.co.uk; Craig.oliver@bbc.co.uk; david.gow@guardian.co.uk; e.macaskill@guardian.co.uk; editor@medialens.org; ghenry@guardian.co.uk; i.katz@guardian.co.uk; ian.black@guardian.co.uk; ian.rumsey@itn.co.uk; j.carvel@guardian.co.uk; j.freedland@guardian.co.uk; j.hari@independent.co.uk; j.mullin@independent.co.uk; james.naughtie@bbc.co.uk; james.reynolds@bbc.co.uk; jim.gray@itn.co.uk; jo.carr@bbc.co.uk; john.Humphrys@bbc.co.uk; john.irvine@itn.co.uk; john.mulholland@observer.co.uk; john.sweeney@bbc.co.uk; jon.snow@itn.co.uk; jonathan.munro@itn.co.uk; l.doyle@independent.co.uk; larry.elliott@guardian.co.uk; madeleine.bunting@guardian.co.uk; malcolm.balen@bbc.co.uk; mark.popescu@bbc.co.uk; michael.white@guardian.co.uk; mike.wooldridge@bbc.co.uk; paul.johnson@guardian.co.uk; peter.beaumont@observer.co.uk; peter.horrocks@bbc.co.uk; peter.rippon@bbc.co.uk; r.norton-taylor@guardian.co.uk; reader@guardian.co.uk; robert.mccrum@observer.co.uk; robert.moore@itn.co.uk; sarah.montague@bbc.co.uk; steve.herrmann@bbc.co.uk; t.davies@independent.co.uk; t.radford@guardian.co.uk; today@bbc.co.uk; w.woodward@guardian.co.uk